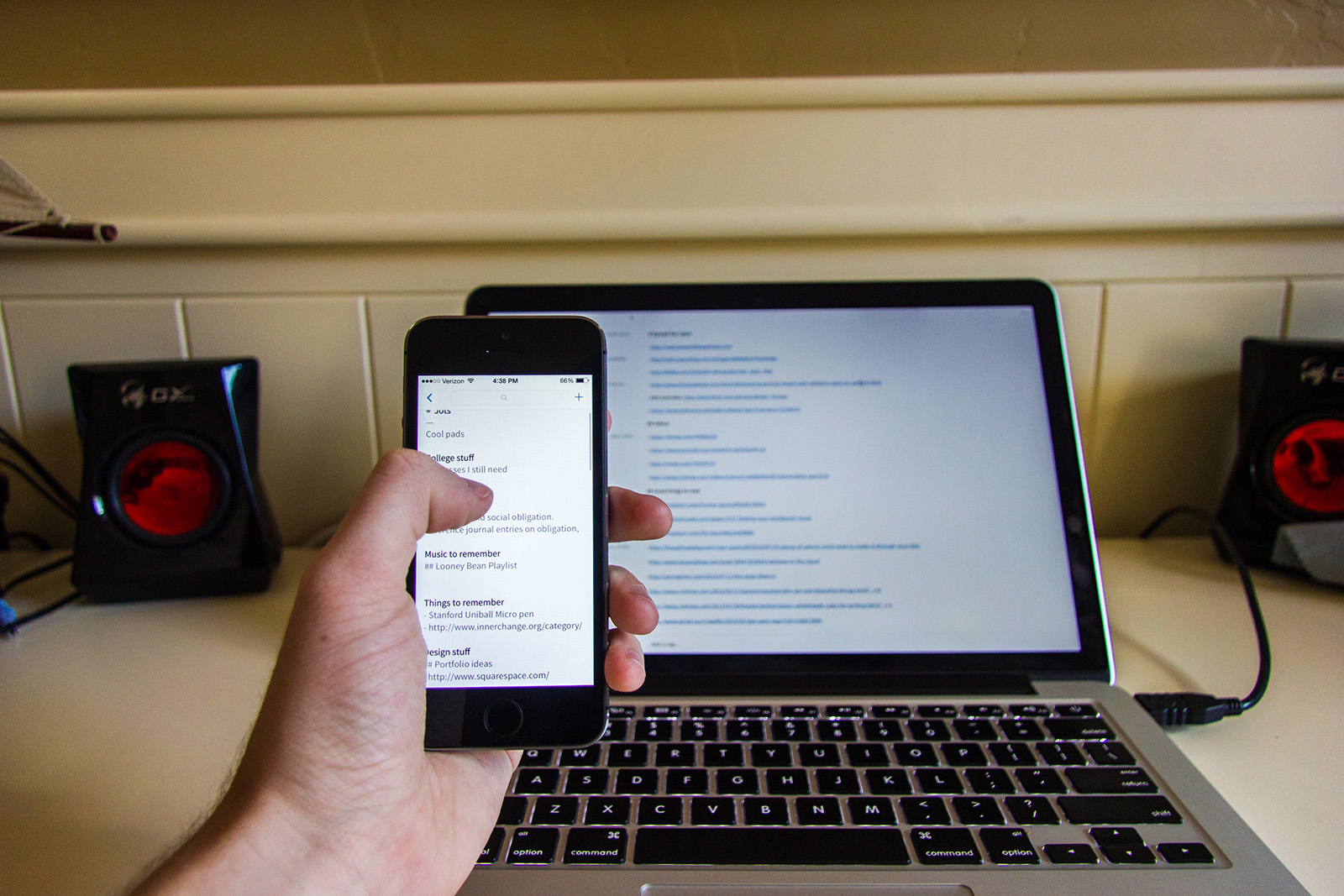 "4,000 words? I don't want to read that." Okay, here's the short version:
Simplenote is everything the daily note-taker needs. It uses Markdown for formatting, has versions of notes in case you erase something important, is available everywhere, works with a plethora of great apps, and is the perfect combination of minimal and functional.
Notes need to be ubiquitous
In the days of high school, I never much liked the idea of notes. I told myself I didn't need them to help pass exams, organize my thoughts when reading a bit of literature, or remember when the next Star Wars film releases. Now things are a bit different. I keep a log of my daily thoughts in Day One, organize all my events in iCloud Calendar, and keep a lot of my random ideas, dates, and other information tidy in Simplenote. It not only keeps my life more organized, but also helps me maintain sanity when trying to remember the little things, like which email address belongs to my Craigslist account.
Not long ago, people carried around notebooks full of their arbitrary thoughts from the day. Some people still store their Internet passwords in physical notebooks for security reasons (technically, it can't be hacked, unless you have scissors). As with other areas of our lives, notes are inevitably becoming digital with the help of services like Evernote, Simplenote, and even Apple's iCloud-powered Notes app. But why switch to these when you can use your little standalone iPhone app or physical notebook? Well, those aren't quite cross-platform.
If you're like me, knowing that something is backed up redundantly is a grand sigh of relief. Sure, you could use a copy machine to ensure your notebook is always backed up in a filing cabinet, or export the notes from your iPhone to a .txt file for use elsewhere, but that's not the more seamless workflow. iCloud, Evernote, and Simplenote are all appealing because they are synced with a server over the Internet, making them available practically anywhere.
Criteria for good universal notes
The main thing to look for in a cross-platform app is availability on truly every platform. That means a good Web app is necessary, since all computers and smartphones can access it. Just as important, though, is design. Even if the app has fancy functions that others do not, it's difficult to use it daily when the interface is unappealing. Likewise, it may have a better user interface than anything else but miss the mark in usability. The balance here is key.
Other things I'm looking for in a cross-platform note-taking app include:
Support for lists
Formatting support (preferably Markdown)
Reasonable price (free or one-time purchase is better than subscription)
Reliability
Lack of bugs in apps along with continual support and updates
Syncing, third-party apps, and offline access
Organization
Support for collaboration
When it comes down to it, our pick for the best cross-platform notes app needs to look nice, but also offer some unique features. Most importantly, it can't constantly be prone to server maintenance or data loss, no matter how cool it looks.
My favorite: Simplenote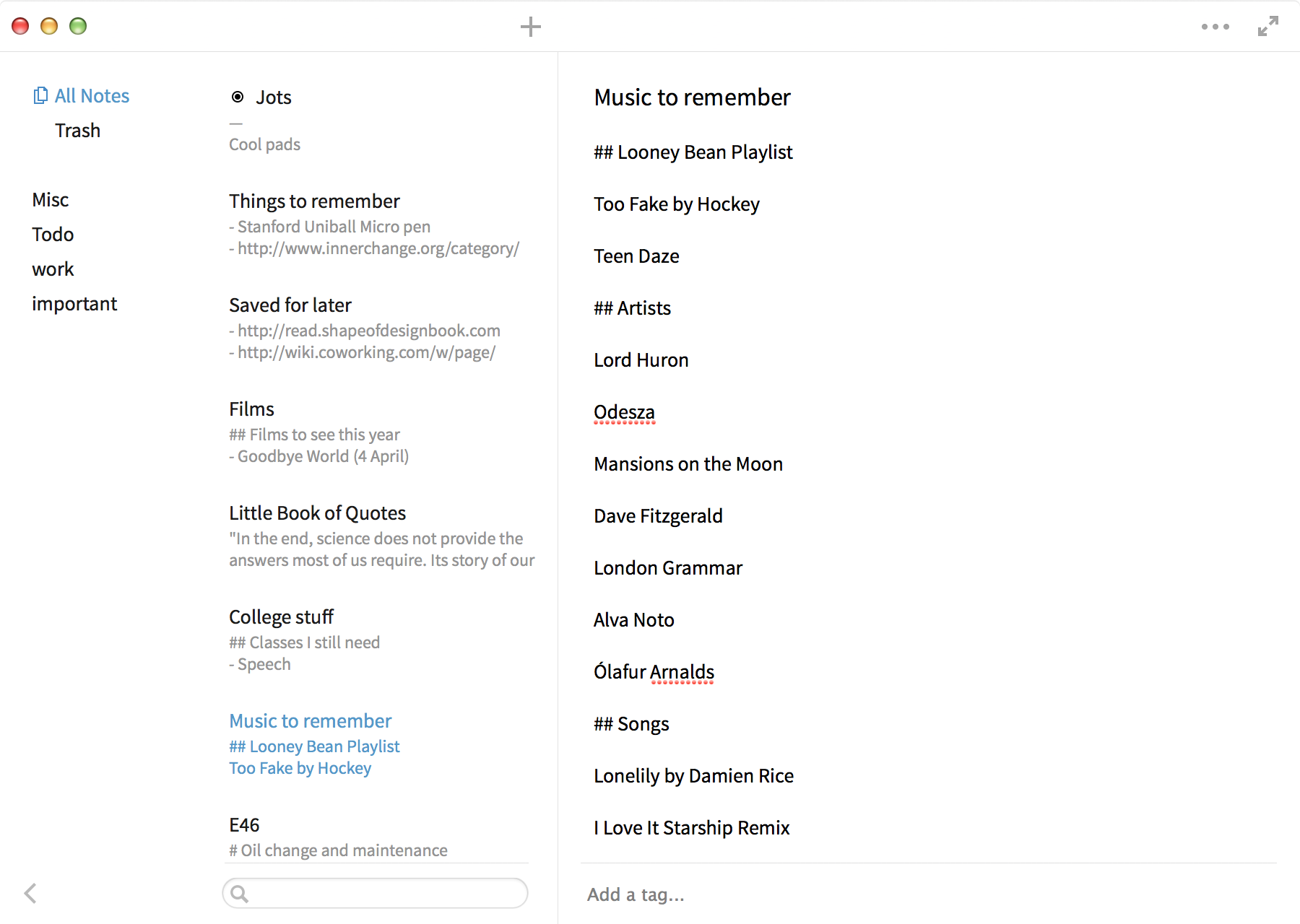 Who it's for: Someone who wants to keep their notes as minimal as possible without sacrificing reliability or functionality.
My personal favorite cross-platform notes app is Simplenote. It is, as the name suggests, fundamental at first appearance. Behind the scenes, though, there's a lot going on. For example, on top of using its own servers, you can also choose to sync your notes with Dropbox, enabling you to have an additional layer of backup (refer to Dropbox's file versions feature) and be able to access your notes in even more third-party apps.
Sharing your notes with a team in Simplenote works well, but could be better. To begin editing a note with your coworkers or project partners, all you have to do is add their email address as a tag. That user will then see a new note in his account. He will be able to edit it and share thoughts across the team. One problem here is none of the users will have a clear idea of what notes are being shared because Simplenote doesn't put a special symbol or anything beside them. Another thing is there's no way to see what someone is editing, and the refresh time is not quite instant. So, if you and another team member are editing the note at the same time, things might get jumbled.
Another cool feature in Simplenote is Publish to Web, an easy way to share a note with lots of people. Publish to Web can be used for all sorts of things, from sharing information with friends on Twitter to asking for feedback on a draft of your latest literary work. So long as you've labeled the note as Markdown formatted, it will automatically be put into preview mode with the applicable style on its Web page.
While we're on the topic of Markdown, it's best you know that Simplenote uses the syntax as its only source of formatting. You can type everything in plain text, which I do with most notes, or you can do it in Markdown and eventually export or publish it as a nice-looking document. It was a good choice for Simplenote to use Markdown instead of rich text or its own native syntax because it's one of the few that doesn't take away from the writing experience.
Simplenote is too basic for some people. It doesn't have multimedia support, uses tags instead of folders for organization (which people can find confusing), uses the hipster Markdown syntax instead of rich text for formatting (which people might not be accustomed to), looks underpowered, and so on. In reality, though, it's a fantastic service. I'll admit, it does have some quirks, but nothing is perfect. Automattic, the company behind WordPress and Gravatar, now owns it, which means the reliability is as good as it can get, and they're constantly keeping its apps up to date. I've never had a problem with Simplenote. Everything that's sent to and from its servers is encrypted with SSL, which gives me the confidence to store special stuff in there, and I haven't experienced any downtime or loss of information.
Simplenote's many apps
Since it supports Dropbox integration, Simplenote is the most expandable cross-platform notes service available. You can use it with almost any text editor — Elements, Byword, Pages, etc. — on almost any device. That's the dream.
Of course, Simplenote does have a few native clients for Mac: Simplenote for Mac, nvALT, and Justnotes. For iOS there's the official app and the abundance of Dropbox text editors. (You can, of course, use any text editor on Mac.) This should be exciting.
Simplenote for Mac and iOS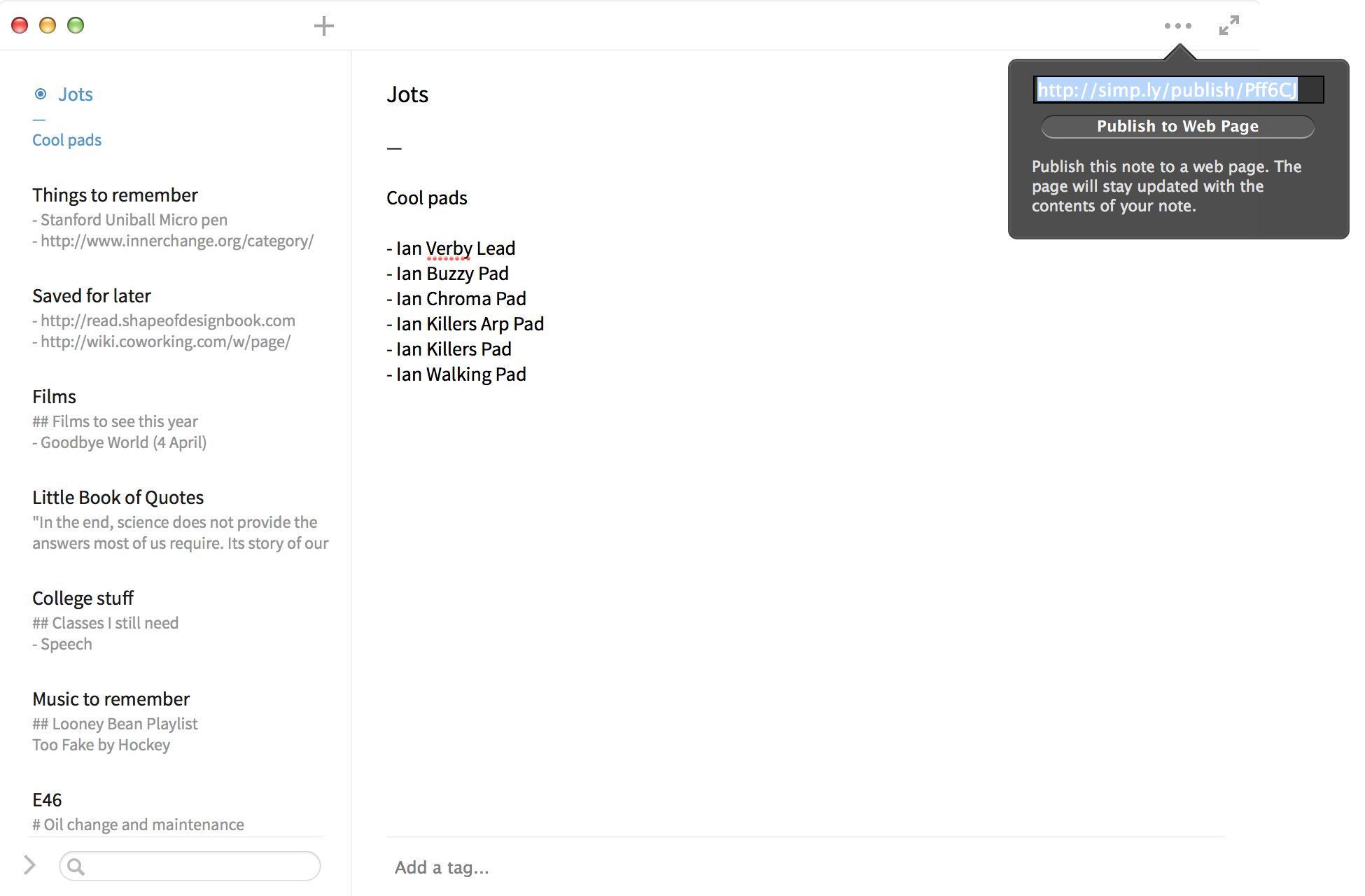 Simplenote's Mac app captures the very essence of the service and puts it in a little white box. Sure, it doesn't really fit the rest of the OS with its custom top bar, but it sure looks nice in fullscreen. Thankfully, this is a native app, not a glorified Web app. It takes all the features the service has to offer, aside from account management, and makes them available in a nice OS X window. What more is there to ask for? Well, maybe a little bit.
While I do like the minimal interface, it's almost paltry in areas. There are no graceful transitions when you click things, from toggling the sidebar to selecting a new note. Everything sort of jumps from here to there. If the developers took a bit from Apple here and used the nice sliding transitions from the Notes app, things may have gone better. They could have even used the transitions they have in the iOS app and that would have been great.
Overall the Mac app is very nice. It provides a consistent experience throughout, even if that's it's not the most smooth available. I use it daily for Simplenote because I prefer the interface to nvALT's aging one. But we'll get to that.
---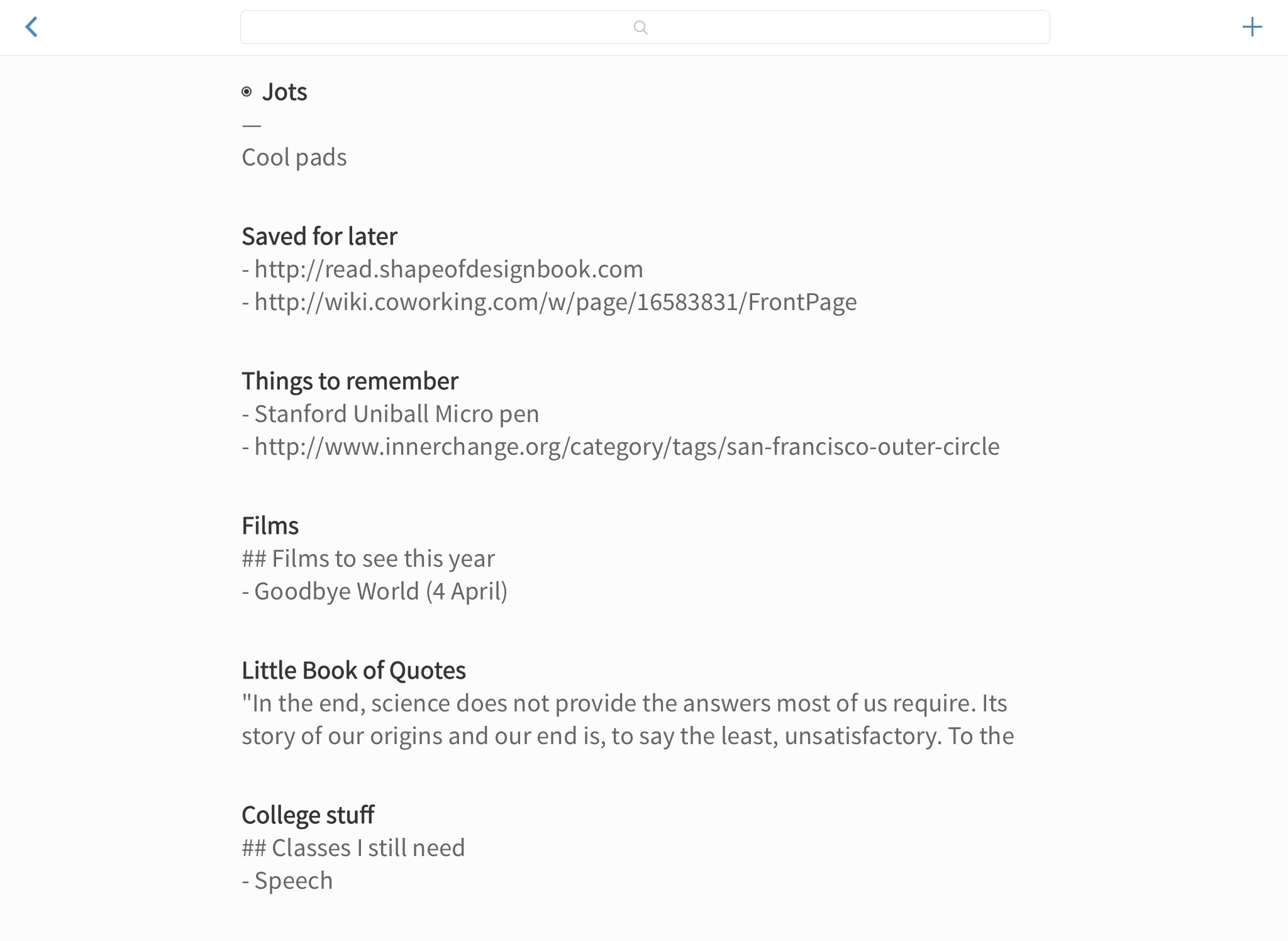 As for the iOS version of Simplenote, it's become much more polished in recent months. It never used to be bad, but since iOS 7 released, the designers really stepped up their game, at least on the iPhone side of things. Some will argue that putting text on a white backdrop isn't the most inspired way to go about things, but Simplenote did a good job of it. The subtle blue accents throughout the app fit well and everything from the sidebar to the edge-swipe transition is visually appealing.
The iPhone version of Simplenote fits the screen well, on both a 4 and 5. The iPad version, however, feels unintuitive: it's basically the iPhone interface stretched out a bit. Since this is exactly what naysayers thought the iPad would become years back, this isn't the best app they could develop for a tablet. It'd be nice to see the sidebar present at all times in the main screen rather than showing only a list of notes and a search bar like on the iPhone.
In landscape orientation, about 3.5mm of screen space is wasted on left and right margins, but in portrait, everything is literally the same as the iPhone, just scaled up. It's a shame to see a wasted opportunity here, but at least there's some good news: all those third-party Dropbox text editors. They make it possible to look beyond Simplenote's shortcomings on the iPad. I'll take a look at those a bit later.
Aside from visuals, the iOS app performs well. It has brief moments of indecisive behavior related to where I actually touched the screen, but iOS 7 (yes, even 7.1) seems to have that issue sporadically no matter what app you're using. One cool thing about the iOS app is passcode lock, which allows you to add an additional layer of security between a stranger and your notes. They may be able to access your phone when you're not looking, but your Monty Python criticism? Never.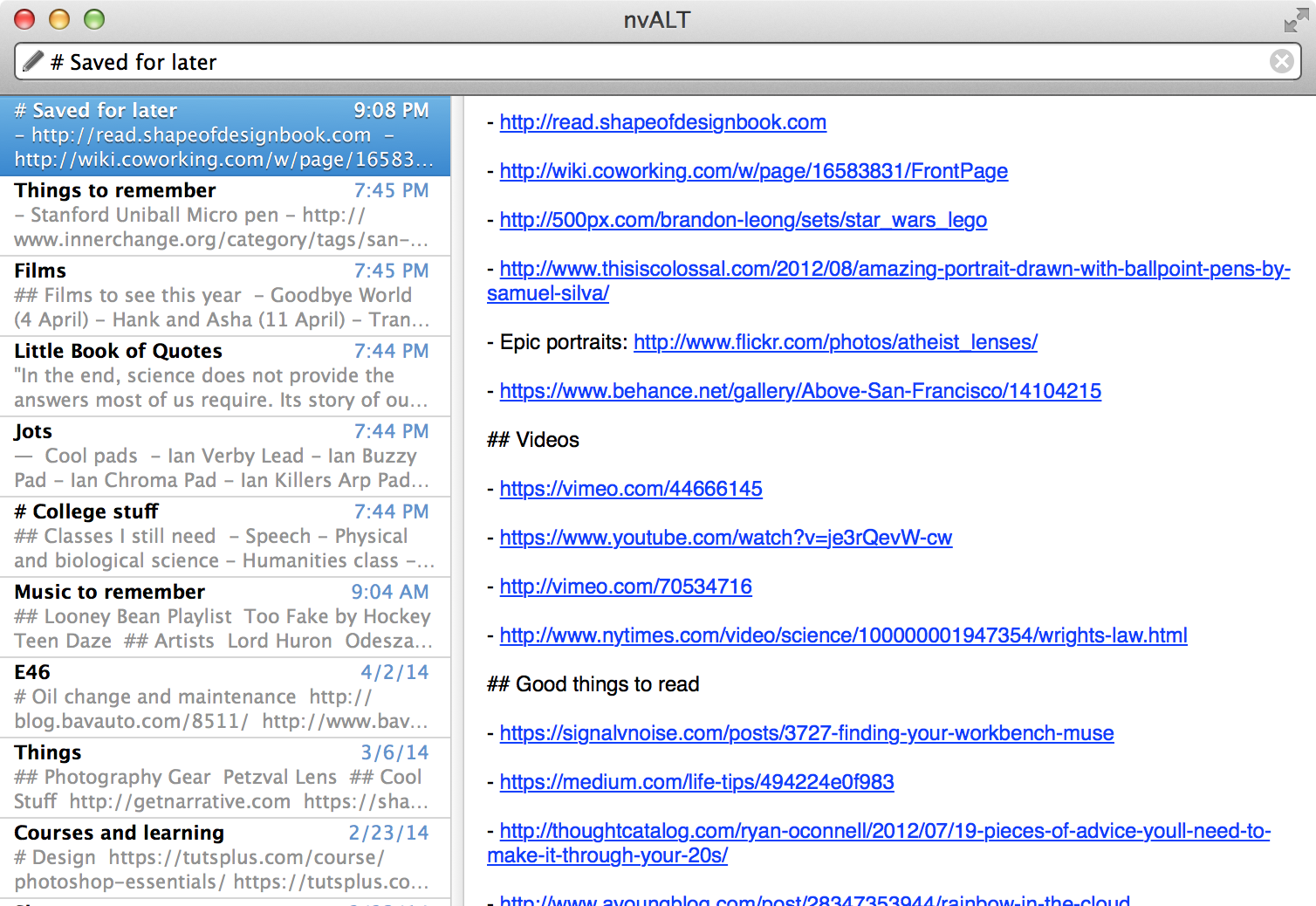 Brett Terpstra's Mac-only nvALT has long been the goto Mac notes app. One thing to note: it hasn't been updated since June 2013 and the last version was a beta. Also, its user interface is a bit bland for my taste.
nvALT is a project by Brett Terpstra. I say this because it's good to remember that projects are little back-burner things for weekends of retirement, or "the good old days of college." Terpstra describes the app, which started out as Zachary Schneirov's Notational Velocity a few years earlier, as "a way to take notes quickly and effortlessly using just your keyboard." Put simply, it makes navigating your notes far easier than any other app, and it's an extremely powerful tool.
With nvALT, everything is about shortcuts. To create a note, all you have to do is start typing and press enter. This doubles as a search function, so not pressing enter will yield results for your query. When editing a note, CMD + J will jump to the next and CMD + K to the last. You can link to notes with double brackets ([[like this]]) around words. Formatting is all done through keyboard shortcuts if you're more visually-oriented. You can even view the source in HTML.
If you're a security enthusiast, you can encrypt all your notes with an adjustable key derivation time. nvALT alt even has a "Secure Text Entry" feature which ensures your notes can't be picked up by a keylogger. One of the niftiest features in the app is external editing, which, with a quick CMD + Shift + E, will allow you to open your note in another app of choice, such as Sublime Text. This means you can store code in nvALT and edit it elsewhere, much like Lightroom's relationship with Photoshop.
nvALT has a lot of cool features. It's a great little app, despite not receiving an update in nearly a year. While the interface isn't quite as appealing as Simplenote's, it's much more interesting for a power user. If you care about quickly getting work done, this is the Simplenote app you need. If you want something that looks nice and might take a bit longer to navigate, Simplenote's app works fine.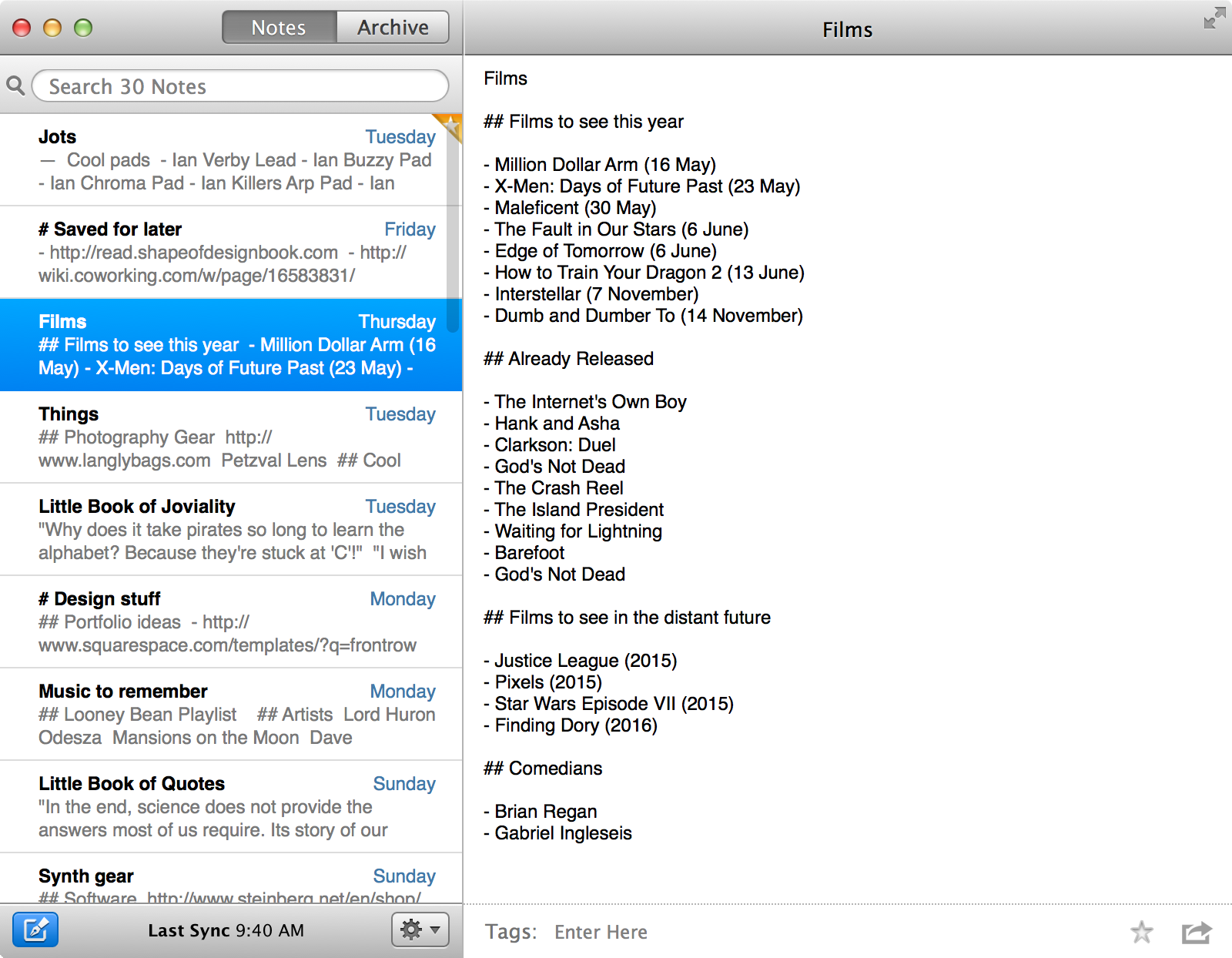 I took at look at Justnotes back in 2012 and wasn't terribly impressed. For $9.99, it doesn't offer anything unique. nvALT is just as good for free. And if you want a nice interface, Simplenote's official app is the cream of the crop. I suppose it may appeal if you're looking for something different, but the price seems a bit steep.
Third-party Dropbox iOS text editors for Simplenote
Brett Terpstra, the familiar nvALT developer, compiled a handy list of iOS text editors that can do anything from the basics to powerful word processing. If you're not in the mood to sort through this list yourself, I've gathered three of my favorite iOS Dropbox-capable text editors for a quick roundup of their pros and cons. They were chosen based on their modern design, when they were last updated, and what unique features they offer.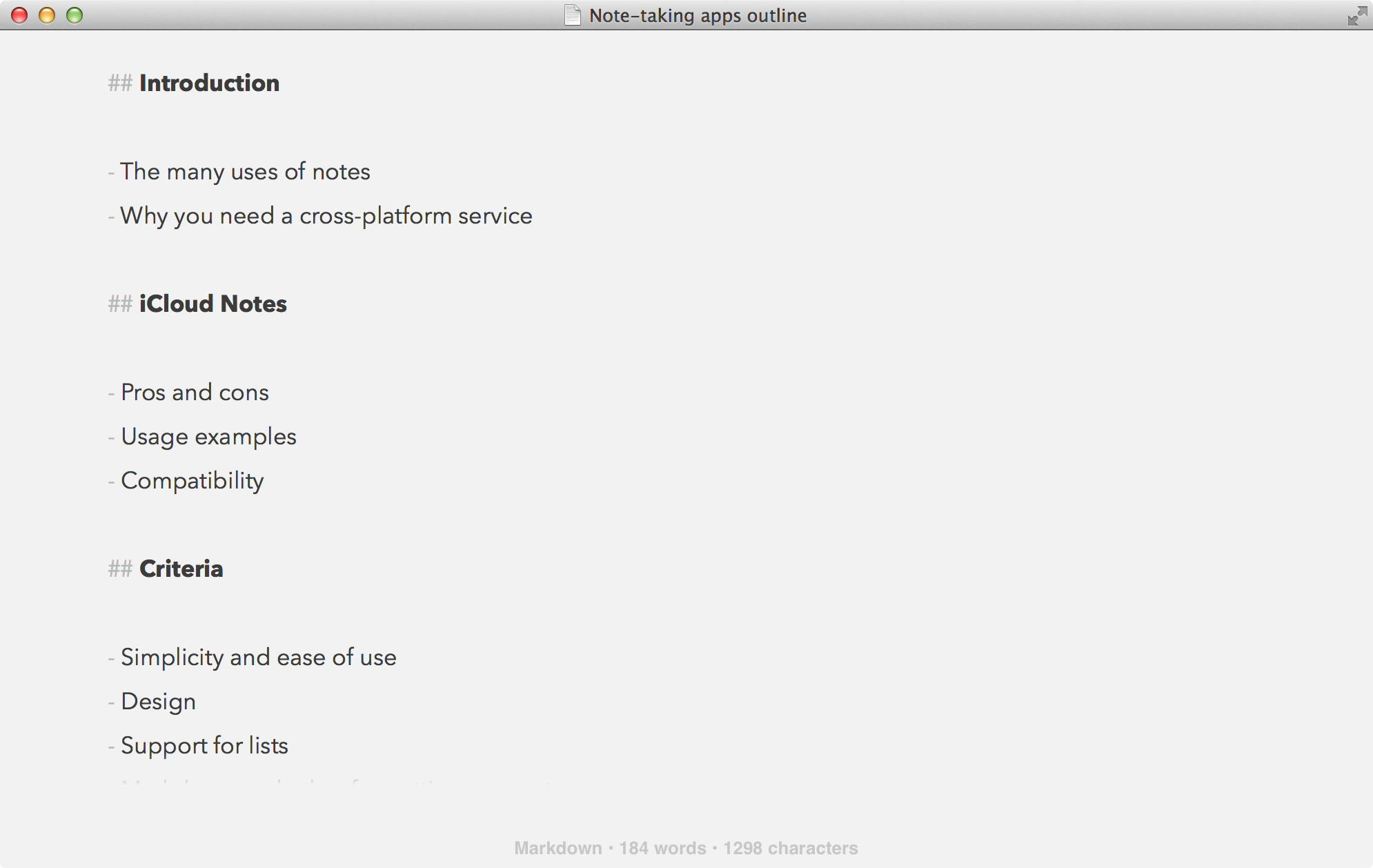 Byword is my favorite Markdown editor, but it's more than just that. With support for full Dropbox integration, it becomes a powerful Simplenote editor. To use it as such, you have to link your Dropbox account in the folder selection menu (the arrow at the top left of the screen if you're in the documents view) and make sure to select Simplenote as the folder for Byword to sync with rather than assigning a folder to it specifically.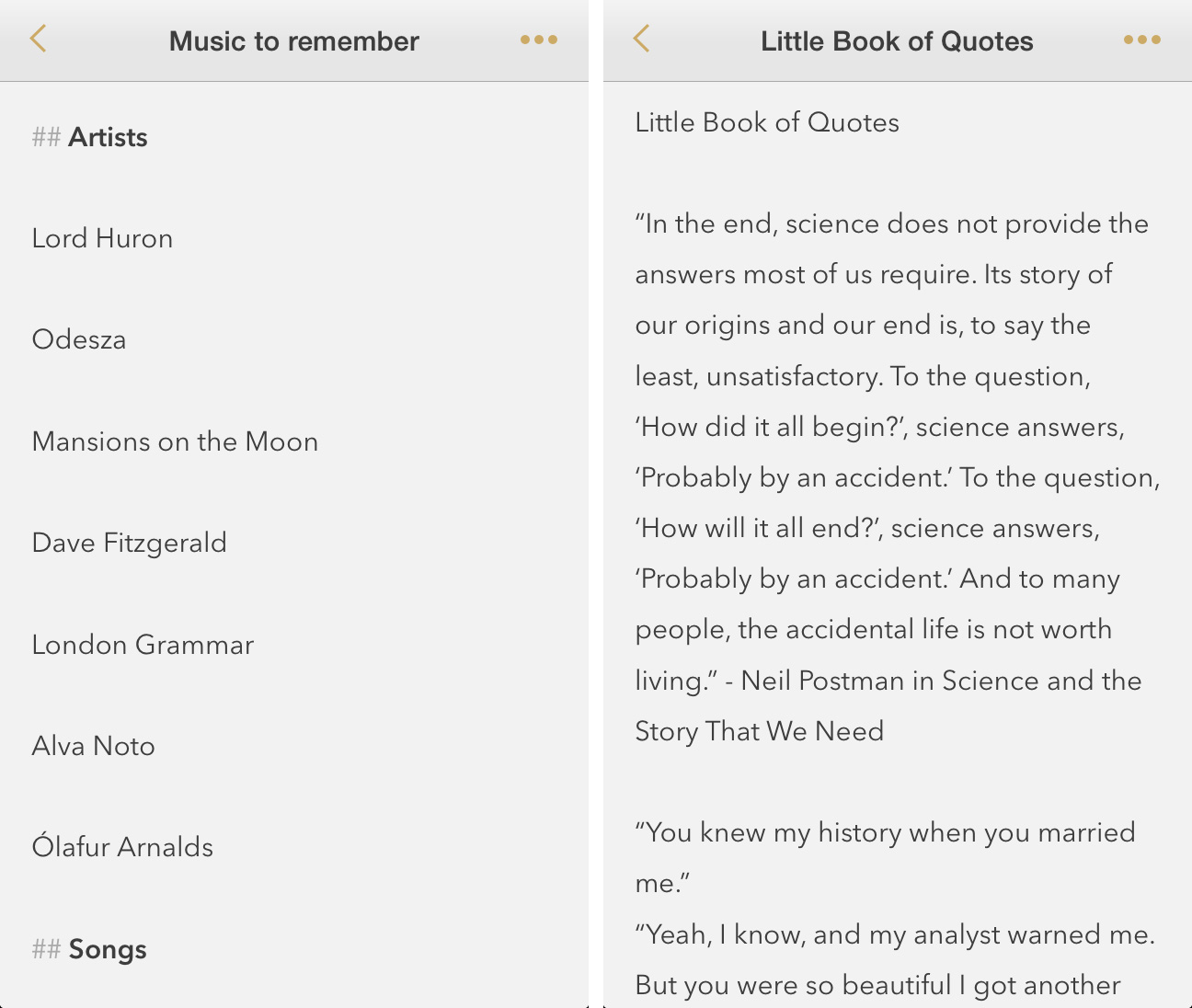 There are a lot of reasons to use Byword, but I always have because it works. In the early days of iCloud, I lost a few portions of documents, and sometimes entire files, between devices. Things have improved since then, though, and Byword is now my trusted text editor for all my writing and even some notes. It's kept up to date by the developers and when bugs to surface, they're fixed quickly in my experience. For the price, I've found Byword to be the best Markdown editor across all platforms for the simple reason that it has everything I need, plus reliability.
1Writer takes the design of Byword and adds nifty features its already steady set. It includes four different themes, and a dark one, to give text editing a bit of flair. That's not the best of it, though. The app has full Dropbox integration along with support for exporting to CloudApp and Droplr in plain text or PDF format, and even Evernote.
The best thing about 1Writer is its support for third-party app integration in iOS. On the App Store page, the developers list such productivity apps as Drafts, Editorial, 1Password, OmniFocus, Fantastical 2, and custom URL schemes, among many others. This means that you can create specific workflows (Federico Viticci is a good person to reference for these) including the app to boost your OS-wide efficiency.
My favorite feature in 1Writer is the Flesky keyboard. If you've never heard of it, think of Flesky as the answer to typos. It somehow manages to prevent you from typing the wrong thing by learning how you type and predicting what you're going to say. Android's Swype keyboard has always been nice, but this is better. You can still tap using it and the design fits iOS well. One downside is its size. The keys are a bit larger than the standard iOS keyboard's, which means that it may take a bit of getting used to.
The only reason I'm not using 1Writer as my everyday Markdown editor is because there's no Mac app. It is easy to use Dropbox with Byword or iA Writer on Mac, but after you're used to iCloud, it seems inconvenient. For me that's the case. Having a Flesky keyboard in a text editor on iOS sounds great, but I would prefer not to sacrifice an extra few steps in my workflow just yet. Still, for $2.99, 1Writer is a fantastic choice for Simplenote editing.
A new contender in the iOS Markdown game is Write, the "world's first and only app with rich text Markdown editing." It costs just $1.99, is visually appealing, and reaches out to a different market than most Markdown editors. Rather than focus on the purpose of Markdown, which is "allow you to write using an easy-to-read, easy-to-write plain text format, then convert it to structurally valid XHTML (or HTML)," it makes things the most visual possible with support for rich text. If you find rich text easier for your mind to organize, this might be perfect for your Simplenote-Dropbox account.
Simplenote for lists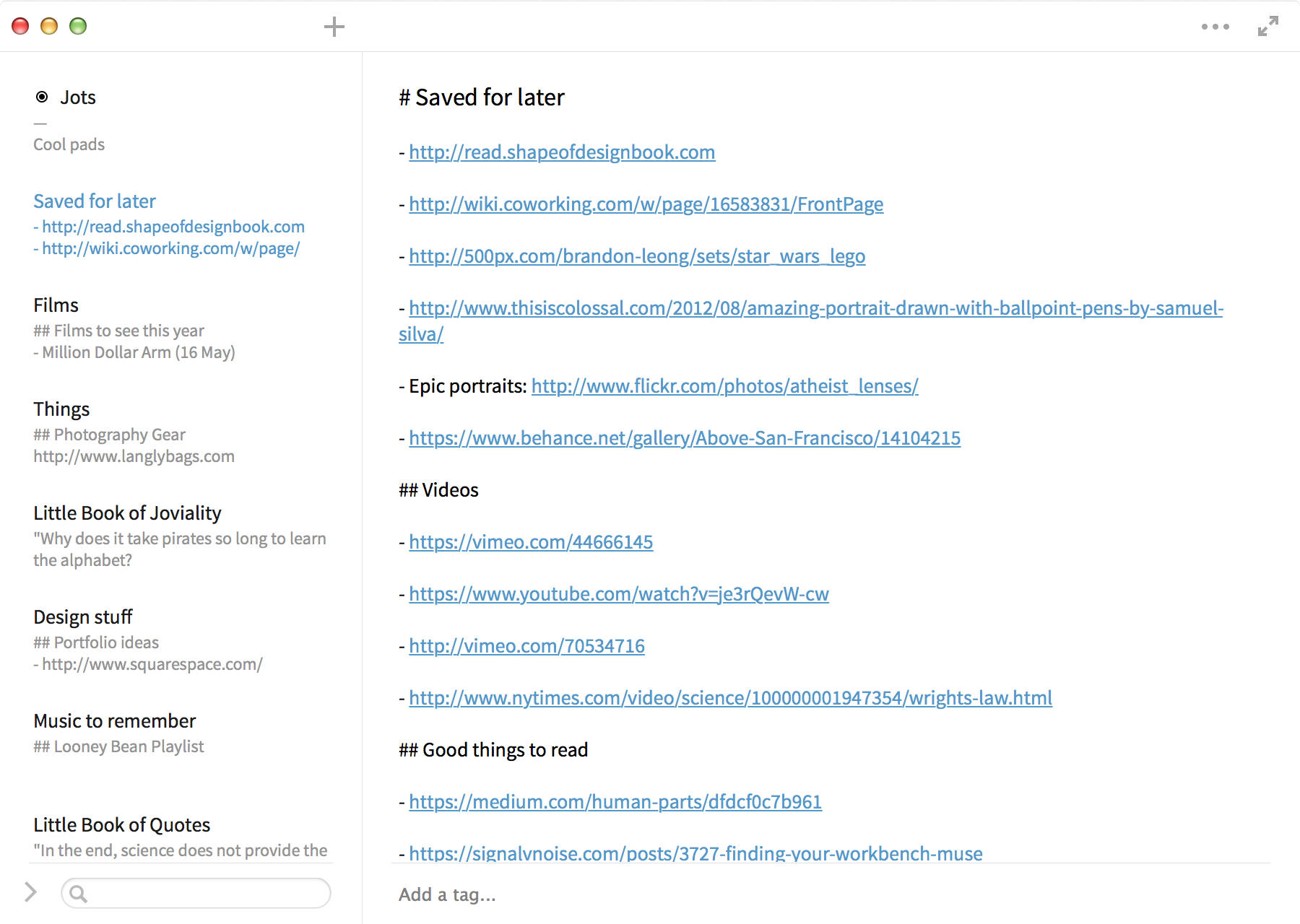 When you think of "notes," you probably imagine many pages filled with elaborate thoughts that were too important to forget. I do things a little differently. Rather than large paragraphs of text, I've found it easier to list things. I keep lists of everything, from films to watch to things to do when the calendar is empty to a "little book of quotes" for the wise sayings I want to keep close.
I've never liked the way list apps organize things. They're typically too task-oriented for what I'm doing. So, instead of finding a good one, I've resorted to plain text lists. Simplenote handles these better than anything else I've used. Even if its editor decides not to get along with plain text lists, I can always head to Byword on an iOS device or even TextEdit on a Mac and pick up where I left off. That's the beauty of Simplenote.
Simplenote's advantages
Lives up to the basic name
Great design on all platforms
30 days of versions for all notes
Lots of third-party apps
Runner-up: Evernote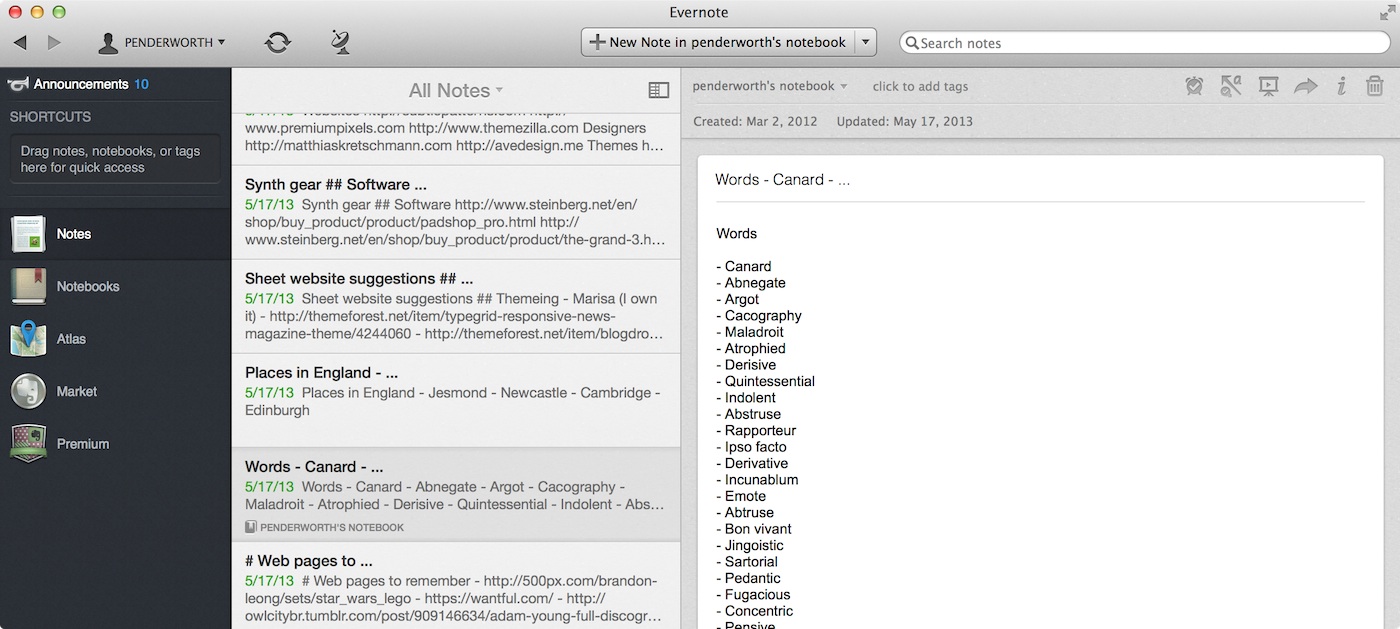 Who it's for: The visual thinker and advanced user: someone who needs images, location, audio, and other metadata accompanying their notes, as well as a meticulously organized digital notebook.
Now, to the powerhouse, the leader in multimedia notes. Evernote has been around since 2008, bringing many new features in the past six years. The service's motto is, "Remember everything with Evernote," which hints that this is a bit more than just a notes app. And it is. Much more, in fact.
Because it's such a different way of taking notes than Simplenote, Evernote belongs in a different category. For example, when you first open the Mac app, it immediately bombards you with a guide to the service, or in my case the new features since you last used it. This is the epitome of what kind of app Evernote is. It's not a pick-up-and-use sort of thing like Simplenote. It's an app that requires a bit of time to master and use properly. When you do get the hang of it, Evernote is a very powerful tool that goes far beyond the bounds of mere notes.
Each note has a slew of options that can accompany it, including reminders, lots of rich text formatting, todo items, file attachment, photos, audio clips, annotations, and geolocation. There's also a note history feature, much like Simplenote's. You can't use it in the free version of Evernote, though. You need Premium for that.
Evernote offers a number of features for free, but the good stuff comes with a $4.99 per month or $44.99 per year subscription to the service. This upgrade offers 1 GB of uploads each month (up from 100 MB), offline access and passcode lock security, the aforementioned notes history function, presentation support for the days you wear a tie to work, and search that peers into PDFs, documents, and images.
Evernote's apps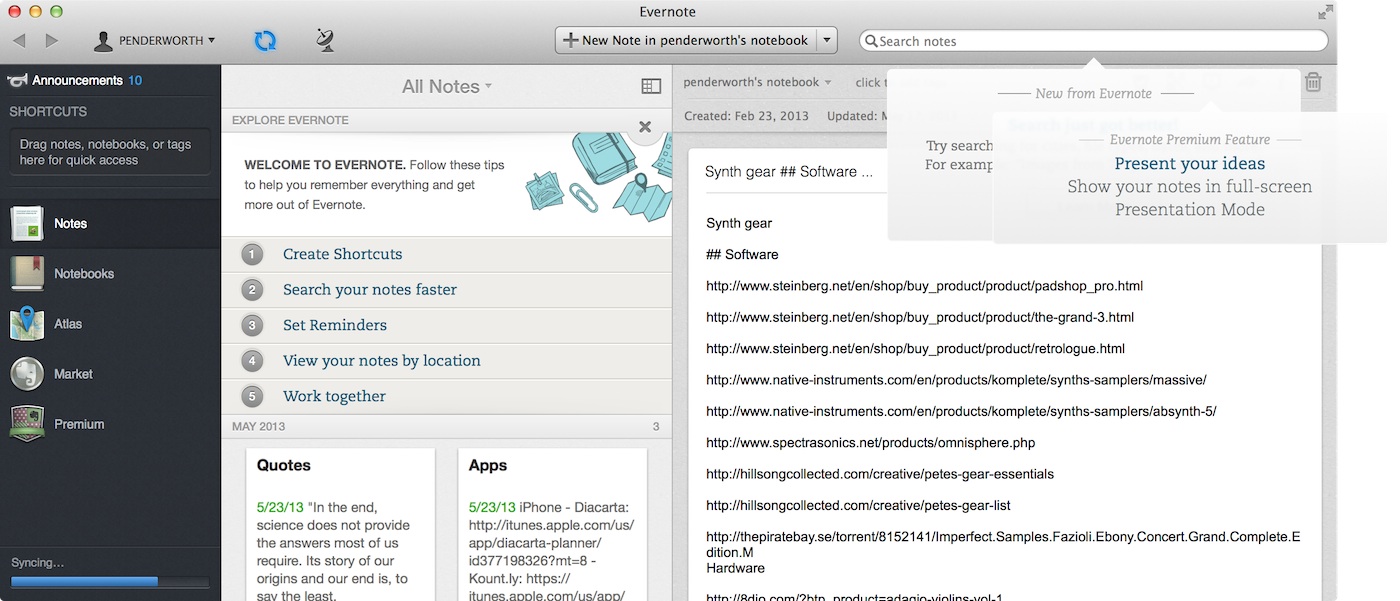 Regarding design, I've never thought of Evernote for Mac as a good-looking app, whether we're talking about ease-of-use or aesthetics. It's not visually appealing at all. The notes pane is a bit of a greyscale mess with very little contrast on activated buttons. The Card View looks terrible if your notes have lists of information rather than paragraphs. Luckily, you can change the view to something more basic like Snippet View. This does, however, make things even more greyscale across the board. But let's move on from design.
The user experience Evernote's Mac app provides is solid, but needs to be a bit more organized. It's strange that this is the case since the service itself is all about organization. Overall, I've found the Mac app to be overwhelming. The interface is too cluttered with buttons that do all sorts of things, from adding images to recording a voice memo that will accompany your note. Then there's the sidebar, which is filled with Notebooks, an Atlas, a Market, and of course the Premium upgrade. It's simply too much to think about when you just want to write something down. Even the right-click menu has a bunch of foreign options.
---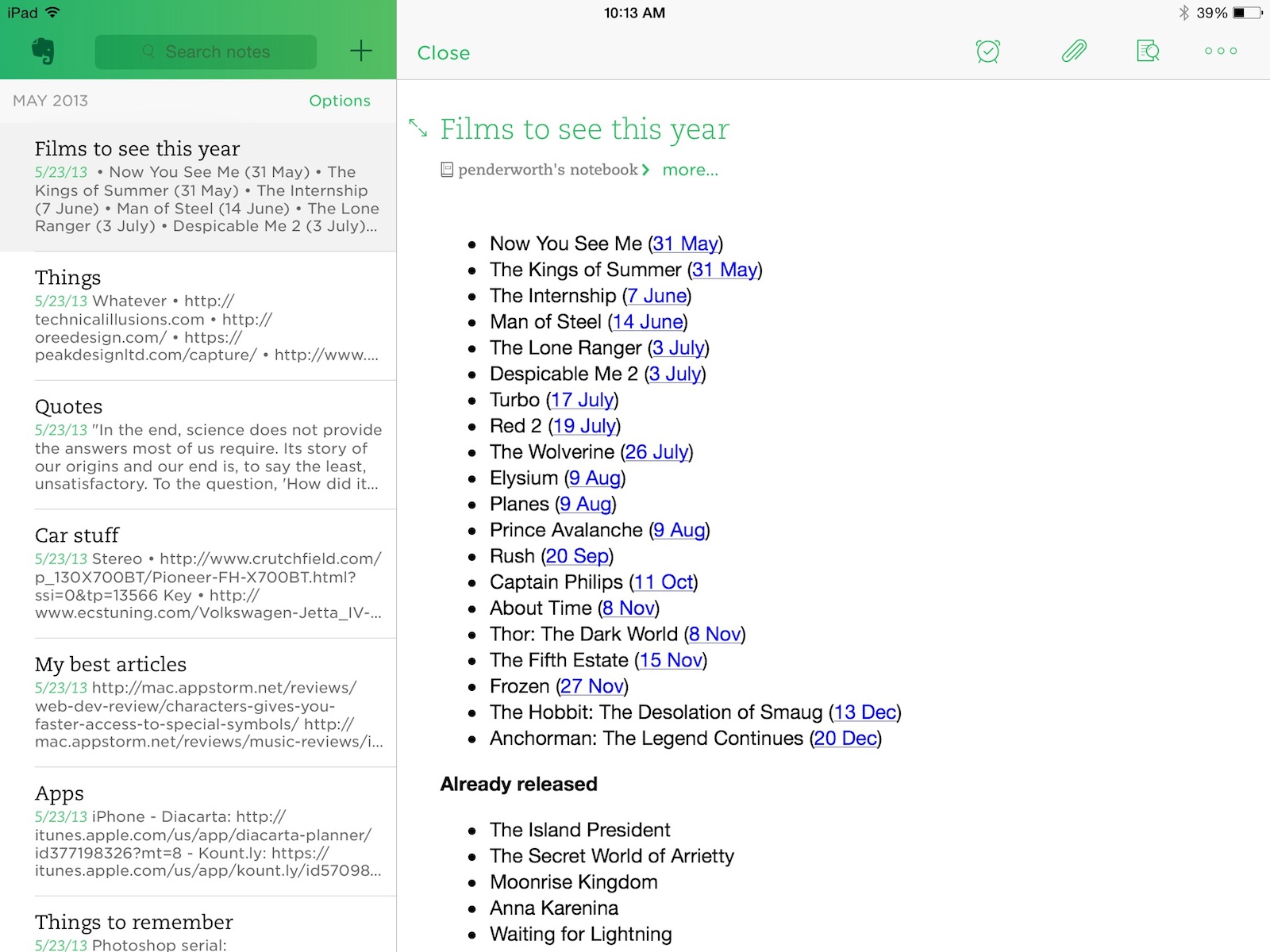 The iOS app is much different. It provides a more modern, minimal experience that's easier to start using. It's still cluttered in areas, but when you are viewing a notebook on the iPad things are exactly as they should be in Simplenote: list of notes to the left, current note in the editor to the right. I'm glad they didn't strip away the productivity of this app when they updated it for iOS 7. It's good to see they took a simpler approach than the Mac app without compromising the features. All this can be said for the iPhone app as well. It's a polished experience that fits the platform perfectly. I wish I could say the same about the Mac app.
Evernote's advantages
Powerful multimedia support
IFTTT integration
Good for business presentations
Built-in option: iCloud Notes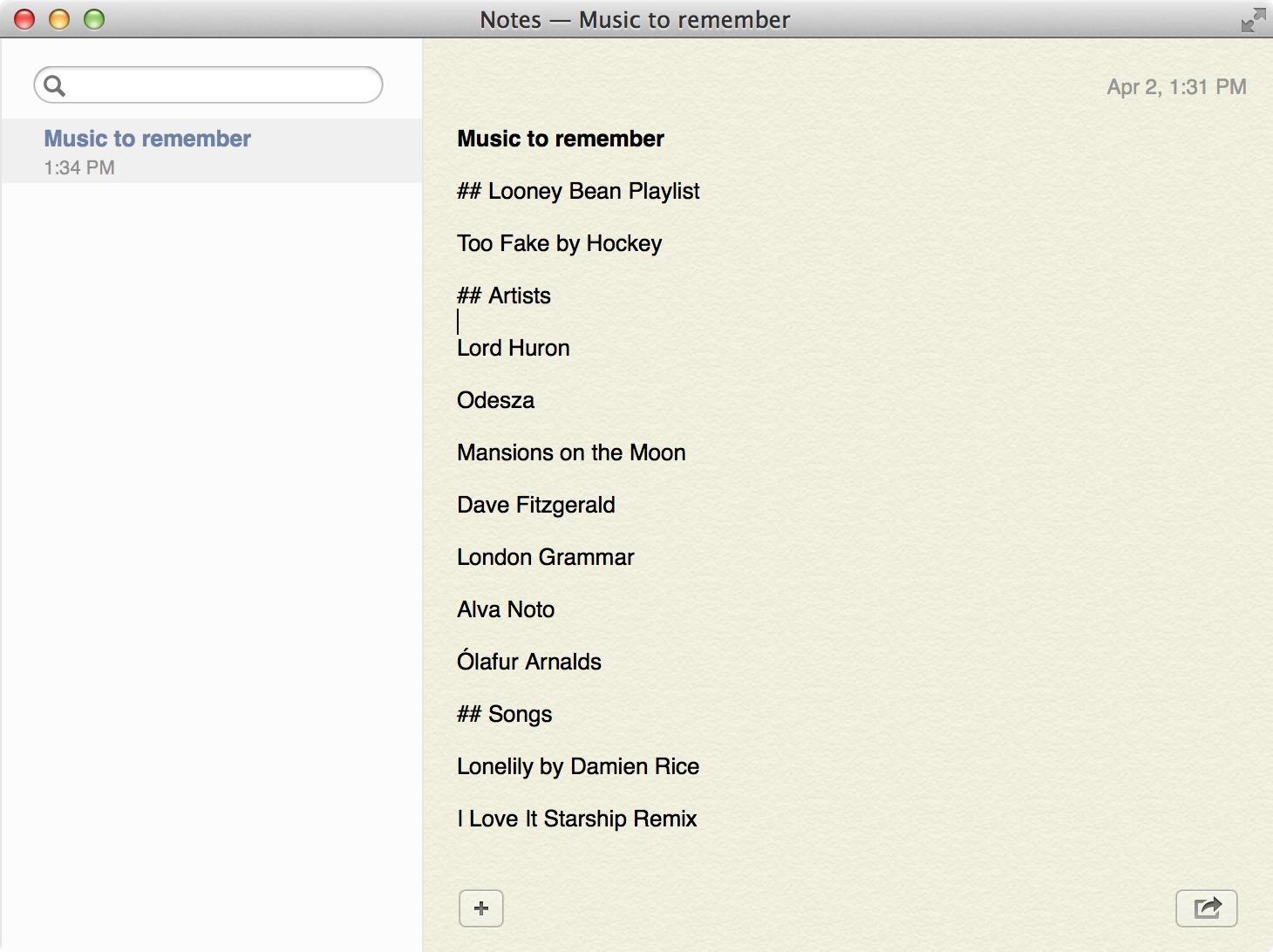 Who it's for: The average user who wants nothing more than a basic notepad that syncs with Apple devices.
First and foremost is the default notes app on all Apple devices. Its syncing ability is powered by iCloud's servers, which means it's available on all iOS devices as well as Macs with OS X 10.8 and above. It also means it's the most secure and reliable of all these options, going by Apple's track record. It can be accessed on the iCloud website too, making it a wise choice for the individual seeking ubiquitous access.
Other than the basics, though, iCloud Notes only brings one interesting thing to the table: Siri. Since Apple hasn't made iOS' assistant available to individual developers, they're the only one who can use it, which means their apps can be more convenient. Rather than unlock your device, open Notes, add a new note, and type in the information, you can tell Siri, "Take a note" and start dictating it. It's wonderful for in-car and hands-free use.
As far as organization goes, iCloud Notes strides well-prepared. It includes support for folders and the usual search functionality. That means keeping work and school separate from home is as easy as a few clicks. Unfortunately, right now you can only create and manage (rename and delete) folders on Mac, much like text formatting (see below). This makes things a bit less special.
Now, let's look at the downsides of iCloud Notes. If you're looking to connect with your team, there's no collaboration support. (A friend and I used to share show notes for a podcast using several services over time. The best ended up being Google Docs, despite how robust it can be.) On top of that, I haven't had the most reliable experience with this particular Apple product. iCloud Mail, Calendar, and Contacts work great, but Notes has been unreliable in my use. After multiple instances of important jottings getting lost in between devices, it's hard for me to trust iCloud. I sometimes open up the app on my iPhone to record a quick, unorganized scrap of data, but other than that it's not on my radar anymore.
For some, it's possible to move past the little things, so here are my main quibbles, aside from reliability: its unintuitive interface and lack of formatting abilities. Adding styling to text in Notes on an iOS device is, well, impossible — there's no support for it. On a Mac, the app has rich text support for changing font, making a list, indenting text, and even aligning it. The problem is, you can't change any of this when you're back on iOS. It's an inconsistent experience.
iCloud Notes' advantages
Free with an iCloud account
Barebones
Siri integration